COLLECTION 01
THE FIRST PIECES OF PEWSPIRACY
These benches were Church pews in their past life and won at auction by a Burniture fan. We dismantled the pews and cut, re-glued and laminated them into semi-circular forms to fit around a circular table. From this, an ongoing project emerged. Burniture realised that many churches were unsustainably disposing of their old pews. We did some investigation and Pewspiracy was born. Pewspiracy is on a mission to find out where they are all being sent, and resurrect as many pews as we can to give them a second life . This is the first piece of the Pewspsiracy Collection.
First Pews of Pewspiracy, Eucalyptus, 2023.
Table & Benches: £6000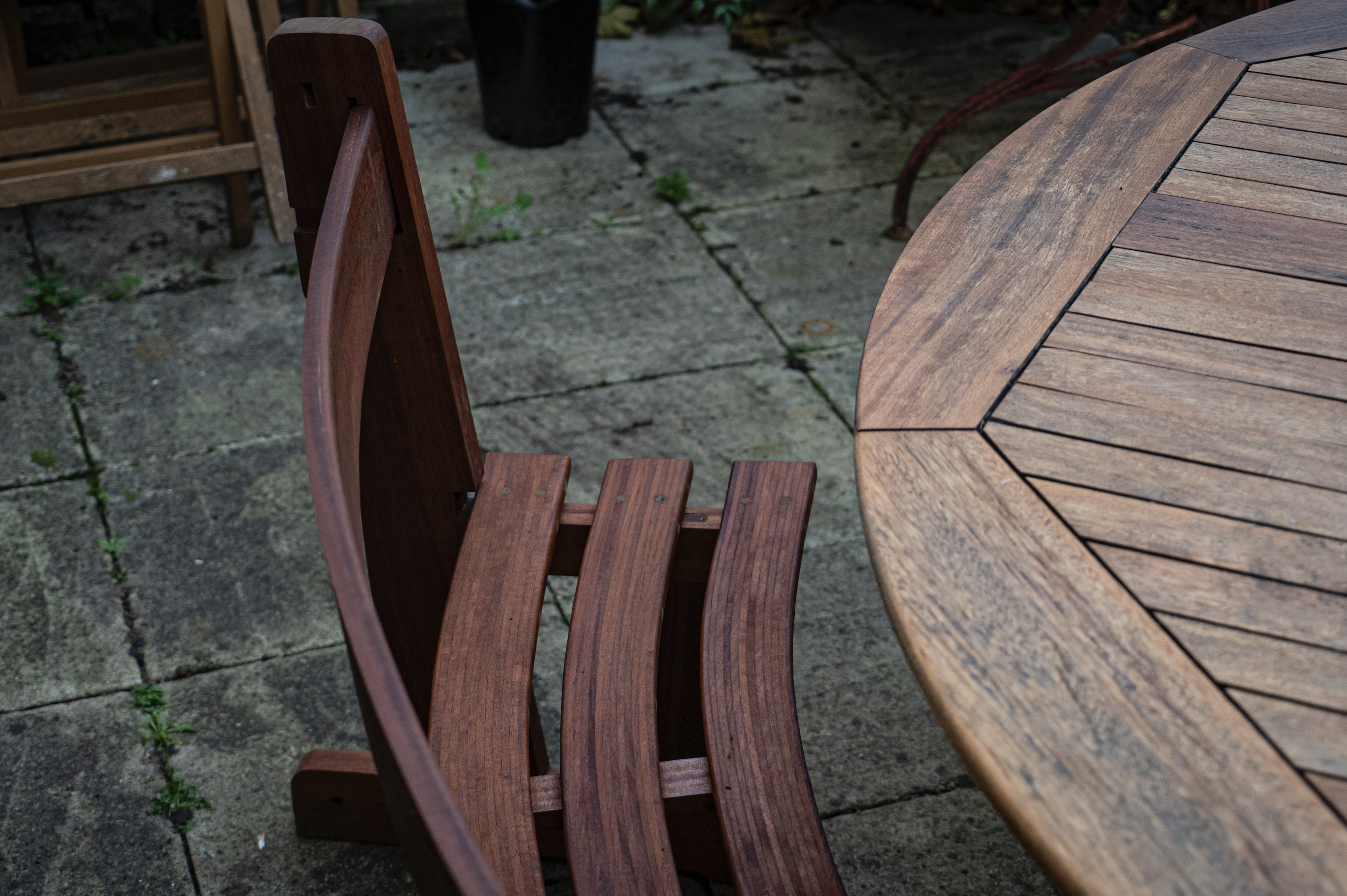 KITSCH KANDLES
This piece began when Josh found a discarded table lying by a bush. The base was separated, Rohan put it on the lathe to remove the dirt and miscolouring, and Dimitri pyroed in the plant engravings in honour of its previous resting place. On merging the wooden base to the brass lamp, they realised that not one but two pieces of furniture could be made! Splitting the base in two, they settled on one lamp with a brass base and wooden top, and one with a wooden base and a brass top. We like that the source scraps were found abandoned, street side, on a cold night, and can now proudly light up their new home.
Kitsch Kandles, Beech, 2023.




ROHAN'S READING CHAIRS
The source materials for this piece came from an unwanted oak table from Maida Vale and shelves from Shepherd's Bush. The design was inspired by Gerrit Rietveld and tongue in cheek take on flat pack furniture. These chairs are easily dismantled and reconstructed so they can be taken to the beach, to a festival, by a fire, or wherever you see fit. Lumbar and leg support is also a key (and crowd favourite) feature of what is quickly becoming one of our signature pieces.
Rohan's Reading Chairs, Oak. 2023
£450 per chair,
£1200 for 3 chairs.




THE BONFIRE BREAKFAST TABLE
This piece's story is as faithful to our name as could be. The table top was salvaged from a bonfire for Guy Fawkes night in Notting Hill. We designed a few different possibilities but settled on this low Moroccan style table. The stumps were from a branch of a Lebanese cedar tree that flew off in a storm. In homage to its bonfire backstory, we wanted to maintain the idea of this piece being akin to a pile of burning wood on the ground for people to sit and share food and stories around (only without the flames and fumes).
The Bonfire Breakfast Table, Teak, Cedar of Lebanon Tree, 2023.
£1400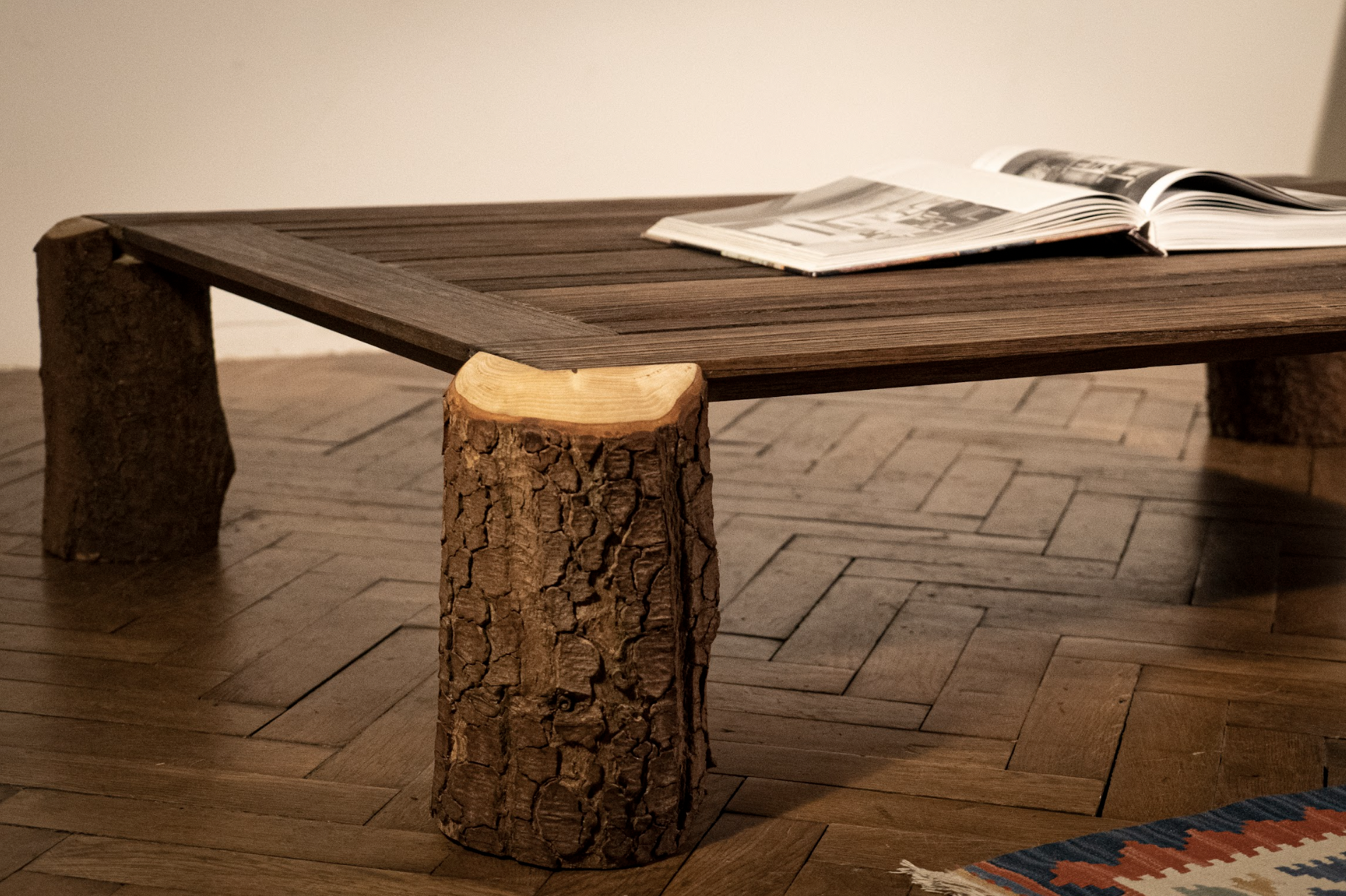 EASELY DONE
The paint splattered wood at the core of this cutting table was once Max Denison-Pender's first easel. It held every portrait he painted during the first 6 years of his career, (including one of Anthony Joshua). We retained the extendable piece of wood to store cooking utensils. The surrounding wood came from a skip-bound kitchen countertop from Hammersmith. We think this piece encourages the creation of a knockout meal that Max, Anthony, and the original kitchen would all be proud of.
Easely Done, Oak and Maple, 2023
£1100